Sea Textures Squares
Set of 4 Square Clay Art Tiles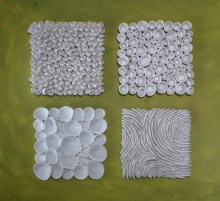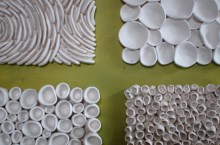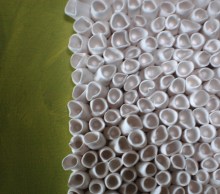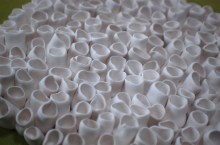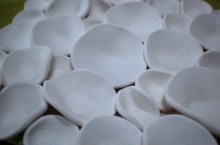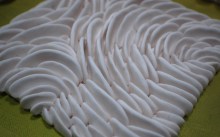 Description
Using the sea bed as my inspiration, this coral reef wall sculpture is part of a small series of collectible clay wall art ornaments. Each one with a fascinating texture of the sea and perfect for a beach house or beach themed interior.
The coral reef inspired wall hanging was meticulously sculpted in polymer clay and can be hung from a small nail since it is not very heavy.
°Please note that each one will vary slightly as they are entirely hand-sculpted.
SIZE:
6" (15 cms) approximately
Other sizes possible, please just ask.
______________________________
Happy customers said this:
*** Beautiful! Love it! Make more strong art please!
*** Most incredible work of art ! I was literally Astonished when I opened the box and saw the details, the hard work that went into making beauty from nature. I was also honored that is was signed by the Artist and dated! Included were special, Beautiful gifts included. I know not only have a part of France in my home but more so a part of Friends I will cherish forever !!! nThank you so much for making my B.day THIS special !!!
*** Absolutely INCREDIBLE... love these ornaments. They arrived quickly and are wonderful! I look forward to using them on my Christmas tree for many years to come. THANKS.
___________________________________________________________________________
Testimonials from happy customers:
*** Oh, I love it! The painting was more beautiful than any computer image could translate. Thank-you for sharing your gifts and talents with the world!
*** Wonderful, even better than I imagined! Many thanks too for the extra card, and the pretty stamps (my grandson will be pleased!). A real pleasure to share in a little piece of your magnificent art!
*** STUNNING!!!...Takes my breath away!!!...Thank you!!!
___________________________________________________________________________
Achievements:
* One of my logs paintings was selected by Christies, London to be sold at their Art for Life Event.
* I won first prize for innovation in a competition here in France.
* I have done numerous successful exhibitions in UK and France.
* Several collectors worldwide regularly commission me.
* Published artwork in Reves de Femmes Lunar Calendar Book in Switzerland
* Represented by The Exposed House, Abu Dhabi