Sea Textures Square Panels
Hand-Sculpted Clay Wall Art Set of 2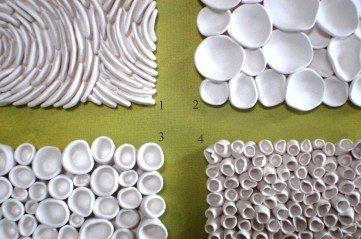 Description
These large textured wall panels are ideal to hang above the bed to add texture and interest to your decor.

Using the sea bed as my inspiration, these coral reef inspired wall panel sculptures will be the focal point of any room and a conversation piece for sure. Each one with a fascinating texture of the sea and perfect for a beach house or beach themed interior.

The coral reef inspired wall hangings were meticulously sculpted in polymer clay and can be hung from a screw in the wall. There is a wire on the back from which it can hang.

°Please note that each one will vary slightly as they are entirely hand-sculpted.

SIZE:
Set of 2 measuring 60 x 60 cms (24" x 24") each
Other sizes possible, please just ask.

These panels have a wood backing that is painted white and is not visible.

Please let me know in 'note to seller' at checkout which 2 numbered panels you would like.