Orchid Framed Print
Framed Pink Orchid Print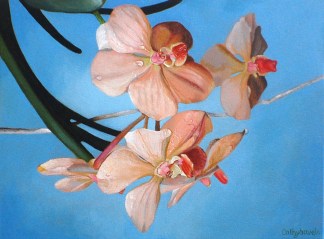 Description
This orchid print, reproduced from an original painting, was inspired by a visit to a beautiful orchid garden in Ghana. Having lived in Europe most of my life, it was so amazing to see orchids growing outside and not in a pot! It had just rained and the raindrops on the flowers added much interest to these gorgeous orchids.

Make a statement in any room with this framed poster, printed on thick, durable, matte paper. The matte black frame that's made from wood from renewable forests adds an extra touch of class.

• Alder, semi-hardwood frame
• Black .75" thick frame
• Acrylite front protector
• Lightweight
• Hanging hardware included
SIZE: 12x16"

_________________________
Testimonials from happy customers:

*** Oh, I love it! The painting was more beautiful than any computer image could translate. Thank-you for sharing your gifts and talents with the world!

*** Wonderful, even better than I imagined! Many thanks too for the extra card, and the pretty stamps (my grandson will be pleased!). A real pleasure to share in a little piece of your magnificent art!

*** STUNNING!!!...Takes my breath away!!!...Thank you!!!

__________________
Achievements:

* One of my logs paintings was selected by Christies, London sold at their Art for Life Event.
* I won first prize for innovation in a competition here in France.
* I have done numerous successful exhibitions in UK, Belgium and France.
* Published artwork in Reves de Femmes Lunar Calendar Book in Switzerland
* Represented by The Exposed House, Abu Dhabi
* Several collectors worldwide regularly commission me.