Garden Birds Wood Blocks
Collage Garden Birds on Wood Blocks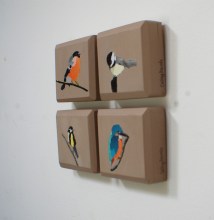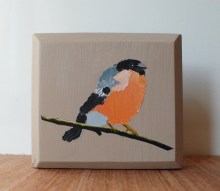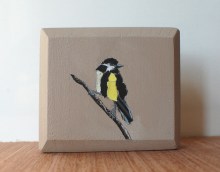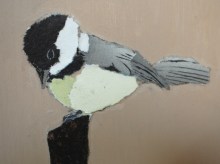 Description
Adorable birds on wood blocks create a wonderful gallery wall or a beautiful accent as shelf sitters. The birds are represented in collage from old magazines with lovely attention to detail.

SIZE: 8 x 9.5 x 3 cms

BIRDS:
Kingfisher
Bull Finch
Titmouse
Great Tit

MATERIALS: collage on painted wood blocks

The blocks have a hole in the back so can be hung on the wall or simply sit on a shelf.

__________________________________________________
Testimonials from happy customers:

*** Oh, I love it! The painting was more beautiful than any computer image could translate. Thank-you for sharing your gifts and talents with the world!

*** Wonderful, even better than I imagined! Many thanks too for the extra card, and the pretty stamps (my grandson will be pleased!). A real pleasure to share in a little piece of your magnificent art!

*** STUNNING!!!...Takes my breath away!!!...Thank you!!!

___________________________________________________
Achievements:

* One of my logs paintings was selected by Christies, London sold at their Art for Life Event.
* I won first prize for innovation in a competition here in France.
* I have done numerous successful exhibitions in UK, Belgium and France.
* Published artwork in Reves de Femmes Lunar Calendar Book in Switzerland
* Represented by The Exposed House, Abu Dhabi
* Several collectors worldwide regularly commission me.