Evolution
Abstract Tree Lichen String Art on Canvas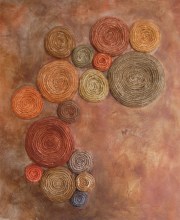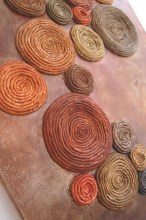 Description
This painting was inspired by the beautiful tree lichen I find here in the forest in France near my home.

50x60cms plaster/string/copper/acrylic on canvas

I am having somewhat of a revival with my painting. I'm coming in to this series with a fresh pair of eyes and ideas. This one was inspired by trees, moss, lichen, regrowth and revival which sums up what is happening to me as an artist.

Firstly I covered the canvas in torn paper to give a nice texture to the background. The shapes were then constructed in plaster and covered in string. This is painted in acrylics but I have added copper powder so that you get a lovely play of light.
The price reflects 50% discount on this artwork.

°°°The first images are the most accurate in color.

This painting is not framed but the sides are worked so it is not necessary. With this work you will receive a Certificate of Authenticity and a signed Artist's Statement. You can read more bio about me here http://www.cathysavels.com

The shipping cost includes insurance and tracking.

Please ask me about payment plans.